Back in the early 2000s, everyone across the globe was adapting to the concept of the internet and exploring the potential of the world wide web. Fast forward a few decades, the whole world is living online!
This transition accelerated especially in 2020 when people were locked in, making Dalgona coffees and playing Animal Crossing. However, staying and working from home has been a boon for rising creators and newly launched companies who have finally understood that "Content is king" and social media is the ideal way to reach the masses.
But if you are a lawyer or a law firm, you might get stumped and wonder – how can we make our content "king worthy"? Over the years, companies have shifted from launching conventional TV ads and brochures to now creating social media posts and videos online.
Video content is booming and whether you are an independent practising attorney or a law firm, video marketing can take your practice to new heights. Whether it's having a YouTube channel, hosting a webinar, or conducting online workshops – video has taken the world by storm, and the legal industry should be no exception.
Video marketing for lawyers seems like a wildly different concept, how can lawyers leverage video content to build their practice? Do lawyers now have to resort to making TikToks? These are the questions one would naturally have when considering shifting to creating video content. Video Marketing for lawyers will involve having a slightly different approach in comparison to a regular B2B or B2C company.
This guide on video marketing for lawyers will serve as an outline you can use to develop the content the right way, understand analytics and get the answers to all the doubts you have in just a few minutes.
Many legal professionals do not have much clarity in terms of how they can efficiently utilize video marketing to enhance their digital presence. When one thinks of a lawyer or a law firm, they are confined to the idea of corporate professionals managing paperwork or presenting a case in court. However, the legal industry is far more exciting than that and has numerous aspects to it that no one knows about.
The best part here is that you don't need a fancy studio setup and a high budget – all you need is a camera, a microphone and a dash of confidence to demonstrate your knowledge and wisdom out to the world.
Law Firm Marketing: Then vs Now
The idea of marketing was never highly prominent when it came to legal professionals. Lawyers and law firm marketing strategies were limited to brochures, Yellow Pages, billboards, newspaper Ads, and an occasional TV ad or two.
In reality, all these methods are now dying out and if you ask the current generation what Yellow Pages are, they'll probably give you a puzzled look like you're speaking Latin. They would be right of course, because when was the last time you even picked up a newspaper or saw Yellow Pages?
Soon with the emergence of the Internet, firms launched their website with a list of the areas of practice as well as the awards they have won for their years of practice. While established firms rely on their decades of knowledge and experience to get a vast range of clientele, it becomes a rough beginning for first-generation lawyers and new managing partners.
Now as the world has finally begun to realize that social media is where it's at, brands and MNCs have jumped the bandwagon of social media marketing, with a key focus on video marketing.
The most prominent mistake made by lawyers whilst marketing their services via websites is that they fail to understand their target audience. The content on their website filled with legal jargon may appeal to a lawman but it stirs the layman. The target audience here is individuals looking to learn about the law, not people who already know the law.
Attorneys and Law firms have to revamp their approach to marketing their firms and while blogs and posts do well, now it is time for attorneys to suit up and face cameras to prove that to beat the best, you have to rise above the rest.
---
Why Is Video Marketing for Lawyers the Right Option?
Videos have a higher impact on the audience in comparison to written text. Watching even a 5-minute video clip or a 30-second snippet leaves a long-lasting imprint on a viewer's mind. While video marketing is a fairly new marketing trend for companies on social media platforms, its popularity is constantly rising.
Not just on YouTube, even on platforms like LinkedIn, video marketing is shown to be highly effective. Video is also one of the most re-shared forms of content on LinkedIn. If you want other LinkedIn connections to help spread your message for you, video is the way to go. The role and relevance of video marketing in improving lead generation and conversion is undeniable.
The benefits of Video Marketing can be summed up in the following ways:
Video and Search Engines: A match made in Heaven
Search engines primarily look for content that engages viewers. Nothing attracts longer and multiple page views with new visitors quite like an engaging value-driven video. Not to mention, YouTube is the second largest search engine right after Google.
Therefore, if you post your video on YouTube as well as your law firm's website, the visibility, and chances of showing up in search results are highly increased. And of course, if you promote your video on social media platforms, your chances of getting found are through the roof!
Your target audience finds their answers
It is crucial to remember that people are your biggest strength in finding potential clients, whether it is through word of mouth or testimonials. Your target audience is a group of people who resonate with your messaging and therefore would recommend your practice to other people facing legal issues.
For example, you post a video about employment rights and cover topics like notice period, severance cheque, etc., so when someone lands in trouble with their employer and wants to take legal action – they find your video and now you have your next client!
Significant proof to potential clients that your firm can provide the best solutions
It's no secret that trust is the foundation that gets you more clients. However, it is vital to note that building trust should be a separate goal of its own. The majority of the notion of content marketing is based on establishing trust and creating long-lasting relationships. The focus of video marketing is selling too, but it also proves that you are not just a legal entity
---
A Beginner's Guide to Video Marketing for Lawyers
Now that you know that video marketing for lawyers and law firms can be a short and long-term benefit in more ways than one, it's time to get your cameras ready.
You might ask "How do I begin?" "Do I just speak to the camera?" and we've got you!
Here's a step by step beginner's guide to video marketing for attorneys and law firms:
1) Select Your Platform for Video Content
The first step in establishing a video presence is of course- creating a YouTube channel. This channel should be maintained and content should be posted regularly. Remember: never post and ghost! An abandoned channel never does well so posting just a few videos occasionally will never have a high impact.
Don't want to limit yourself to YouTube and prefer to create short-form content? In that case, Instagram and TikTok are the way to go. Want to host professional webinars and workshops? LinkedIn will be the one for you. This blog also explains the types of videos you can create as a practicing lawyer or a full-service law firm.
Whether you are an independent lawyer or a newly launched law firm, an ideal first video can be the introduction to who you are and what services you provide. Keep in mind that you are competing with millions of lawyers and law firms out there, so make sure you prove that you are different.
2) Gather Your Team
A video is only as amazing as the people who work behind the scenes. Hire a strong team of video and audio editors, scriptwriters, and content managers who can ensure that the high-quality information provided by you will be shown in a high-quality video format as well.
It is a common myth that viewers prefer short-form content to long 10 minute videos. The fact is that if your video is engaging enough – the audience will keep watching even if the video is an hour long.
Hiring the right content managers is extremely important as they are the key decision-makers in evaluating what videos are high performers and can curate ideas for the channel accordingly.
3) Analyse and Apply
Conduct competitor analysis to understand how to proceed with your channel and how you can make yours unique. As a legal professional, you definitely know copying is illegal so never imitate another firm or lawyer's strategy.
Instead, it's best to focus on your branding and proving that you are the right choice for your potential client and viewers.
4) Take The Leap and Make that First Post
Now that the video is ready, it's time to go forth and post. Don't forget to promote this post on all social media platforms and include the link on your firm's website as well. Do not feel disheartened if the first post doesn't get a hundred thousand views. Rome wasn't built in a day and neither is a strong online presence.
5) Metrics and Next Steps
Awesome, now you've done your research and made your videos and they look great. What next?
Now it's time you get your videos to work for you. That means you have to now go about publishing them to all the platforms on the Internet where your videos can reach your target audience.
Here are the key places:
On your website (homepage, review pages, FAQs)
YouTube channel
LinkedIn
Continue monitoring the analytics of all the platforms to gauge an understanding of what works and what doesn't. Content creation is like a science experiment: you never know when you hit the gold mine.
Remember that whenever you decide to take the plunge and try video marketing as an attorney or a law firm, have the answer ready for these main questions:
---
What Would Your Target Audience Look For?
While an introductory video talking about your journey to becoming a lawyer is a good start, the audience would probably not care much about your personal life stories, whether you went to an Ivy League, or why you wanted to work as an attorney. They would most likely be looking for facts to help them understand their legal dilemmas. Show them step by step what it's like to go through the legal situation they are facing, and why you are the right person to help them.
---
What Are Your Video Goals?
Your main goal for law firm video marketing is to grow your business and attract new clients. If your video gets a million views, but none of those viewers are impressed enough to call your firm for legal advice, that's not a successful approach. Give the client a reason to call you when they watch the video and provide a direct call to action at the end of the video encouraging them to get in touch.
A call to action should be uniform throughout, if you are an independent practicing attorney or legal consultant – you would say "CALL NOW". On the other hand, if you are a law firm, you would much rather have them visit your firm's website to learn more.
---
Types of Video Content for Law Firms: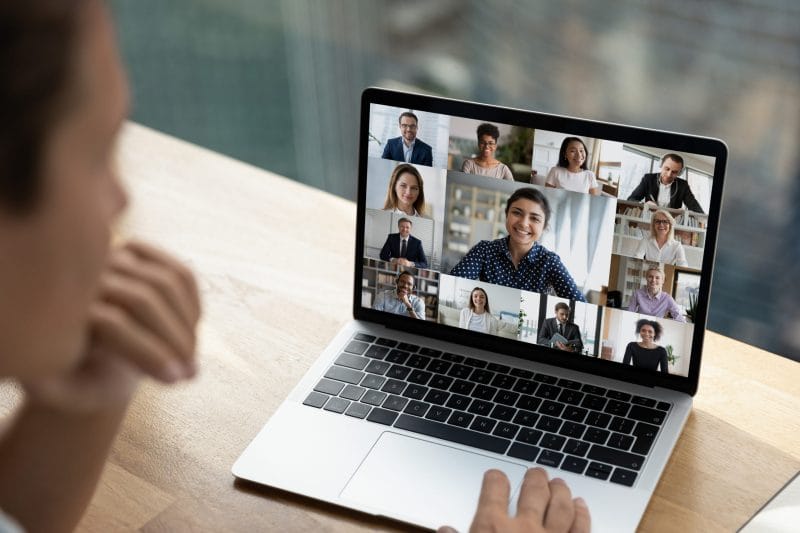 Creating video content as a lawyer or a law firm may appear daunting at first, but there is a lot of potential for ideas, and once you get a clear understanding of your target audience, the process of content creation for video marketing will be smooth sailing.
Here are 5 Video Marketing Ideas for Attorneys and Firms:
1) Webinars
Hosting webinars on professional platforms such as LinkedIn is a great way to not only connect with other legal professionals with industry experience but to interact with many people who want to learn the law. Webinars can also include collaborating with other lawyers and discussing the future of a particular aspect of law.
2) How-to Guides
There's no surprise here that any legal procedure involves a lot of paperwork and often intimidates people. Whether it is filing a complaint to the consumer court or dealing with any civil dispute – provide a step-by-step process on how to go about it. This will not only help boost your ranking in video searches but also build trust with people and they'll believe you know what you are talking about.
3) Behind the Scenes Vlog
Everyone is curious about what kind of cases an attorney handles or what life is like working in a law firm. Create a vlog showcasing how fun and exciting it is to work in a law firm. This may also spark an interest in people who wish to pursue a career in the legal field.
4) Myth busters
Movies and TV shows have definitely dramatically exaggerated courtroom proceedings (*cough* Suits *cough*) and of course, real life is nowhere near that level of drama and intensity! Similarly, there are many common misconceptions people have about the laws in their State and believe they can get away with everything.
If you are a lawyer and you want to be known for your analytical skills, you can create a myth-busting series with a little humour where you separate fact from fiction. This will intrigue people into clicking the video to see how accurate or inaccurate movies or shows can be, and they will get a good chuckle out of it too. Moreover, they will also understand that you know the law well and will instantly recommend you to other potential clients in your state.
5) Legal Updates
Certain laws and judgments like the legalization of Gay Marriage take a country by surprise, but no one really knows what goes on behind the judgment. Give your viewers a breakdown of what goes on behind creating a judgment and why a certain decision was taken by the courts. This proves that you are staying current and more viewers who want to know more would resort to your videos as a fun news source.
These can be short-form content that you can post regularly on platforms like TikTok or LinkedIn.
6) Testimonials and Case Studies
Another type of video that potential clients would prefer to view is testimonials and case studies.
People facing legal issues often search for these videos when they're at the decision stage and are contemplating hiring a law firm to solve their concerns. Prospective clients want a guarantee that the claims made by you on your website are backed up by real client experiences that mirror their situation. A positive experience would motivate a client to work with you so make sure it is prominent that their search for a qualified lawyer or law firm should end with you!
The visual proof was given by other clients talking positively (or even emotionally) about the results you achieved may be the one difference between choosing your firm and opting for one of your competitors instead. Video testimonials are definitely more difficult to fake over text.
These testimonials are highly trustworthy and can be far more compelling. Real stories captured on video can create emotional connections between people who don't know each other and text simply doesn't have that level of effect.
---
Understanding Analytics
Analytics is a great way to recognize how well your videos are doing, your ranking via organic search, and how many new visitors are watching your videos or clicking the links to your website. If your video doesn't appear in the first few listings, it will probably get few views, no matter its quality. Work on optimizing it to get its ranking.
---
YouTube Ranking Factors to Consider
Watch time – the amount of time people spent watching your video
Audience retention – the percentage of your video that people watch.
Engagement – interaction with the video posted. Measured in likes, shares, and comments
Click-Through Rate (CTR) – the percentage of people that click the links included by you in the description
Another thing to keep in mind is the suggested videos by YouTube. These videos show up as a "you may also like this" alternative. The more your videos are optimized, the more likely they are to be included as suggested videos, thereby increasing the views.
Optimizing Your YouTube Videos
Video title: Your title should surely include the main keyword once. It also needs to be compelling or catchy enough to intrigue the audience to click on the video.

Example: Mediation vs. Litigation – what's the best solution?

Video description: Your video description must at least be 200 words or more. Include the main keyword here too, and make the description long enough to provide a solid understanding of what topics are covered in the video, and to inform potential viewers why they should watch it (this boosts CTR too).
Video Tags: YouTube recommends that you tag your videos. However, you don't have to think too much in terms of what tags to choose. Just select 5-10 tags and include your keyword in at least one of the tags. Ensure that the tags do reveal the content of your video.
Mention the keyword used by you in each video: If you title a video "How to pay alimony" and write a description relating to this and tag it accordingly – don't deviate from the topic by mentioning irrelevant information like "grand larceny" or "how to file an appeal". This will tremendously harm your rankings.
Posting Video transcripts: Video transcripts are the text versions of the spoken content in a video.
But why should you post a transcript? Isn't the video enough? Doesn't YouTube automatically include subtitles?
---
Why You Need Video Transcripts
Custom transcriptions make your videos more professional and can help SEO. Yep, I know, that's a bad angle…
Search engines crawl website text to index sites: including transcripts would help them analyze the content of your video with more clarity and depth.
They allow you to use your keywords again (long tail and short tail) in a text format and this would be better for SEO and rankings.
Some users may choose reading over watching – they can view the text instead of playing the video in full volume.
Transcriptions contribute to a lower bounce rate by reconfirming that the content of the video is what is described in the title/description/tags.
They will keep users on your website for longer – therefore further improving rankings.
---
Conclusion
Initially, the concept of video Marketing for Lawyers may seem like a confusing arena to venture into, but with the right guidance and a clear-cut strategy towards developing a structure for your videos – you will soon be able to navigate this tricky world of algorithms and search engine rankings. It is also important to note that a quality video should also include an engaging style of conveying the point and visuals to keep the viewers hooked. As a law firm, it is natural that you may be confused as to why creating video content would be needed. This article provides the ideal solutions to ensure your firm gets the clientele it deserves. Say goodbye to boring old brochures and bland-looking websites – embrace video marketing and amp up your practice to get noticed today!
---
Need help with SEO?
Need professional guidance by seasoned experts who know SEO like the back of their hands? Want to also optimize your website to improve your rankings in search engines? Your search ends with Valeo Legal Marketing – your one-stop solution to all things SEO. We understand the dilemmas lawyers and law firms face in the unknown territory of marketing, thereby we provide the right solutions to get your firm and your practice highlighted and noticed by potential clients. Contact us today and begin your journey into optimization for the better.
---
FAQs on Video Marketing for Lawyers
It is natural to ask questions while starting out on social media as a newbie lawyer or a recently launched law firm. Worry not, here are the answers to a few common questions:
How frequently should a law firm or lawyer create video content?
It is entirely dependent upon the amount of flexibility of the attorney or the content department of the firm. However, whenever you do upload content even if it is infrequent– make sure the quality remains uncompromised.
What should the CTA be for your videos?
The CTA or Call-To-Action is the most important part of any video and this one line can bridge the gap between getting minimal clients to getting many at a time.
Remember that your CTA must be consistent throughout your videos – too many CTAs would confuse the audience and cause an aversion to your videos.
As a lawyer or a boutique law firm, you can include your number or email address at the end with the "Call Now" or "Contact us today". If you are a well-established law firm, make sure to direct them to your firm's website by adding "Visit Now" or "Learn More"
In case you want to add a contact card as a Google Form, make sure you mention the form in your description and at the end of the video and say "Fill it out today"
If you have a newsletter as a firm, you can also mention "Sign up today" to get audiences to learn more about the happenings of your firm.
How can a full-service law firm create content in various niches?
Video Marketing for boutique law firms would be easier as they have one niche of practice. As a full-service law firm, you can categorize the content on the platform and your website accordingly so the audience can find exactly what they are looking for.
Can a lawyer talk about their experiences with certain cases?
Attorney-client privilege must be maintained no matter the scenario. However, if a case was particularly interesting – they can change the names and alter the location details to avoid any conflicts in the future.
Are animated videos at a disadvantage over videos with the person on screen?
While showing your face in webinars and online workshops is essential – if you are handling a YouTube channel it can be as per your preference. Make sure that your animations are captivating enough to have the viewers hooked to learn more.
Are animated videos at a disadvantage over videos with the person on screen?
While showing your face in webinars and online workshops is essential – if you are handling a YouTube channel it can be as per your preference. Make sure that your animations are captivating enough to have the viewers hooked to learn more.
How can I understand what form of content works best on a particular platform?
All social media platforms have a different way of functionality and therefore would require different strategies. Here are a few quick tips on how to create content for the following platform:
·       LinkedIn – Conduct educational workshops and webinars where you interact with another eminent legal professional or present an in-depth analysis of a certain niche of law.
·       YouTube – You can create 10-15-minute-long videos on a variety of topics and present them in an infotainment style to retain the viewer's attention. For law firms, the idea can include "behind the scenes" videos or promote their services in a non-sales approach. Another alternative for a law firm would be a podcast where you can either highlight case studies or testimonials of your clientele.
·       TikTok: While not highly opted for by law firms, this can work great for independent lawyers because they can condense information in 15-30s videos which will certainly grow the awareness of your practice in the State.