Starting a blog is the most confusing part of legal blogging. Being overwhelmed with hundreds of terms such as SEO, analytics, disclaimers, permalinks and more.
However, setting up a law blog for success doesn't need to be hard. If you can get the basics set up properly, your chances of success increase dramatically.
In this article, I am going to be going over the steps that we take when setting up blogs for law firms. These are the steps which we take every time and which have helped us bring extra clients to many law firms around the world.
While this post won't cover every aspect in full detail, it will detail everything that you need to get started. If you are looking for further assistance in a specific area, please feel free to comment on the post or to reach out to us.
What Does it Cost to Start a Law Blog?
Starting a law blog may not be as expensive as you think. In fact, if you choose the right host, you can get started for as low as $10 per month.
Most web hosts will sell 1, 2, or 3-year contracts, and due to this, people get the perception that blogging is expensive. Add to this the cost of themes, emailing list software, premium plugins, and the cost quickly goes up.
However, none of that is needed when you are starting out. In fact, all you need is a domain name (which can be found for under $10), and a hosting plan (which some hosts offer starting from $10 per month).
Everything else can be found free initially. Once you start to earn on your blog, you can gradually begin using paid software and premium services. However, there is no need for these from the start!
In short, a law blog can be started for as low as $20 and then $10 per month afterwards. You can also find annual plans as low as $50, bringing the total cost to around $60 per year if you don't mind paying upfront.
A bigger blog can cost hundreds or thousands of dollars per month. But this isn't something you need to worry about – by that time, you will be attracting new clients through your law blog and it will pay for itself.
The key takeaway here is that starting a blog costs very little. Considering the benefits that it can have in the long run, there's really no reason not to start your law blog. So… What are you waiting for?
---
Law Firm Blog Basics
Starting a WordPress law blog may seem complicated, but it's not as bad as it seems!
The first steps you must take towards creating a successful blog are also some of the most important. While these can be changed further down the track, it's far easier (and less time consuming) to get them right initially.
In this section are the core parts of your blog. Without these, you won't have a blog. They are the basis of everything, and as such, they are important to get right.
Since these are the first steps, many people get started with bad hosting and themes because they are usually cheaper. People often make these choices before they are fully aware of the consequences later down the track.
However, you don't need to spend a lot (or anything) to get quality!
Domain Name
The first step that must be made when creating a blog is thinking of and purchasing a domain name. The domain name is the .com name that your blog will be known as.
Domain names can be purchased for under $10 if they aren't currently in use. However, domains that are already in use can cost thousands of dollars.
For this reason, it's important to find something unique that isn't in use. This can be a difficult process, especially if you are terrible with names like I am!
It is worth spending time thinking about your name though. This is how people will know you for years to come, and you don't want to be known by a name that you don't like!
Hosting
A fast website is very important in 2022!
Choosing a host is the second step that you have to make when starting a legal blog. It's also one of the most important decisions that you will make in your whole digital journey.
A host can make or break a blog, and for this reason, it is vital to find a good host. Unfortunately, this is also where many people make mistakes.
Make sure to check reviews before choosing a host. There are hundreds out there, and many are fantastic. However, there are also many hosts that are known for being terrible.
There are two hosts that I can recommend to anyone wanting to start a blog. The first is Cloudways, which is cheaper and better for law blogs that are just beginning. Although it does lack a bit in customer service, it's fast!
The second is BigScoots, which is a bit more expensive but offers fantastic customer support. If you are not willing to deal with potential site issues, this is the platform to go with!
There are many other good hosts, but it's impossible for me to list them here. Whatever you do though, do not pick an EIG host. You can find a full list of the hosts to avoid here.
The biggest takeaway here is this: read reviews before picking a host.
HTTPS
If you don't know what HTTPS is, there is no need to worry! It's generally something that your host will sort out with no problems.
When you search a URL, you will notice that they always begin with HTTP or HTTPS. For example, https://valeolegalmarketing.com. HTTP shows that a site is not secure, whereas HTTPS sites have security.
This is not only important as it protects your site and your readers, but it also will allow you to get better results on Google.
HTTPS is something that is applied on the host's side, and something which Lyrical Host includes in their plan. On some services like Cloudways, you can add it for free. However, it won't be on all websites by default.
If you are unsure about what to do, simply contact your host's customer support and ask them to make your website HTTPS. They will know what to do!
Email Account
Another step that is essential for starting a successful blog is to set up an email account using your website's email address. For example, [email protected] (for this website).
Not only do these email addresses look far more professional, but they also have a few other hidden benefits.
Firstly, they hide your personal email address. If you keep WordPress under your personal address, emails directed at your website will go to that inbox, allowing people to contact that email address.
Secondly, having an email address @yourwebsite.com will allow people to see that you are the owner, or someone related to that website. This is a great method of verification and is essential for business emails.
Anyone can contact a company saying they own 'x blog', but having an email address @xblog.com proves that fact.
Setting up an email address @yourwebsite.com can be done through your web host. If you are unsure how to do this step, feel free to reach out to your host's customer support. More often than not, they will be more than willing to help.
Further, make sure to add this new email account to your email software. Whether that is the Apple email app, Mozilla Thunderbird, or Windows Mail. Your web host will also be able to assist with this.
Theme
A good theme is important not only for users but also for SEO!
Assuming you are using WordPress (which most people will be), it's time to decide on a theme. The mistake that many new bloggers make is in believing that a theme is purely aesthetic. However, there is much more to them than that.
Themes not only affect the look and feel of your website, but they can also make it slower. A slower website is never good. Not only because it ruins the user experience, but also because Google will give fast websites preferential treatment.
In short, you want your website to be fast. As fast as possible. A good, lightweight theme plays a big part in making sure that your website is lightning fast from the get-go.
There are many different themes out there that are very fast, however, one that I often recommend is Neve. It has a fantastic free version, as well as a premium version which allows you to use some extra features.
Remember that as a law firm you want a clean, simple to use website. You want potential clients to be able to find everything they need easily.
---
Essential Law Firm Blog Plugins
Once you have installed WordPress on your website (which your host will usually do for you), you will be able to access the dashboard. From there, you can manage the whole website and everything that goes on within it.
However, while WordPress is a great basis, it is very lacking initially. To create a successful law blog, there are some essential plugins that you will need to use. These plugins will do all kinds of things, from allowing you to appear in Google, to backing up your website.
Some of these plugin sections have multiple choices, and it doesn't matter which plugin you use. As long as you have one for that purpose (I.E website backups).
RankMath
RankMath has a built-in SEO analyser. While it isn't the best, it can help find some basic SEO flaws with your site.
The first plugin that you need is an SEO plugin. These plugins will allow you to tell Google how to view your website, and will also allow you to easily authorise other services (such as Google Search Console) to use your website.
YOAST is a popular option for SEO, and it's a great plugin. However, I recommend RankMath. RankMath is a great plugin as it offers everything that YOAST premium does, except that it is free.
When starting out on a blog, many people want to invest as little as they can, and understandably so. RankMath is a premium level SEO plugin that offers everything that the competition does but at no cost.
For this reason, RankMath is one of my essential plugins for creating a successful law blog.
UpDraft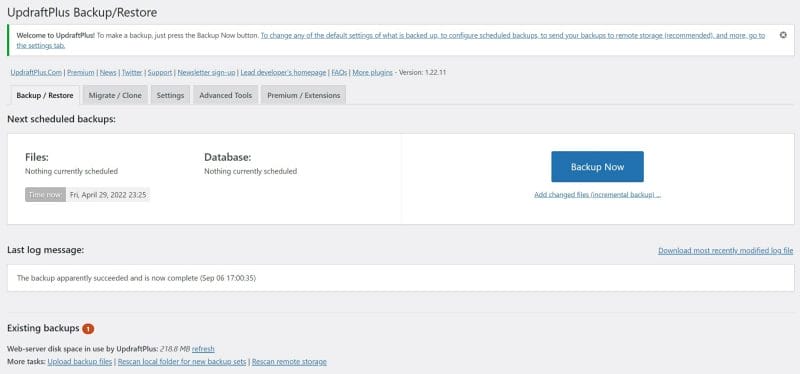 UpDraft is a website backup plugin that makes sure that you will never lose your website. It allows you to set weekly, monthly, or even daily backups that will be saved to your choice of platform.
While there are many backup plugins out there, none compare to UpDraft in my experience. Not only does UpDraft offer a fantastic free version, but that free version is extremely flexible.
You can choose to save backups to Google Drive, Dropbox, or almost any other cloud platform there is. If you would prefer, you can also allow it to save locally on your PC or to email you backups.
Many people don't set up automatic backups for months or even years. However, anyone who has lost their data before will know how soul-crushing it can feel. Don't make that mistake. Set up website backups as early as possible.
Autoptimize & Caching
To get the best speed possible, Autoptimize and a good caching plugin work well.
The next essential plugins for starting your blog are autoptimize and a caching plugin of your choice. As I have already mentioned, speed is vital for a website when it comes to ranking In Google, and as such, it's important that you have these performance plugins.
Autoptimize is a free plugin that allows you to speed up many aspects of your site. However, since this is a technical plugin, it can often seem like gibberish when you first install it. If you feel out of your depth, there are some good guides out there that explain which settings to use.
On top of Autoptimize, a good caching plugin is also needed. Many hosts will have caching plugins built-in (both Cloudways and BigScoots do), and as such, this isn't something you will need to configure.
However, if you don't use one of the hosts, it is likely that you will also need to install a website caching plugin. Some popular ones are Swift Performance, WP Rocket, W3 Total Cache, WP Supercache. It's your choice which one you pick. Most of them will also have free versions available.
Akismet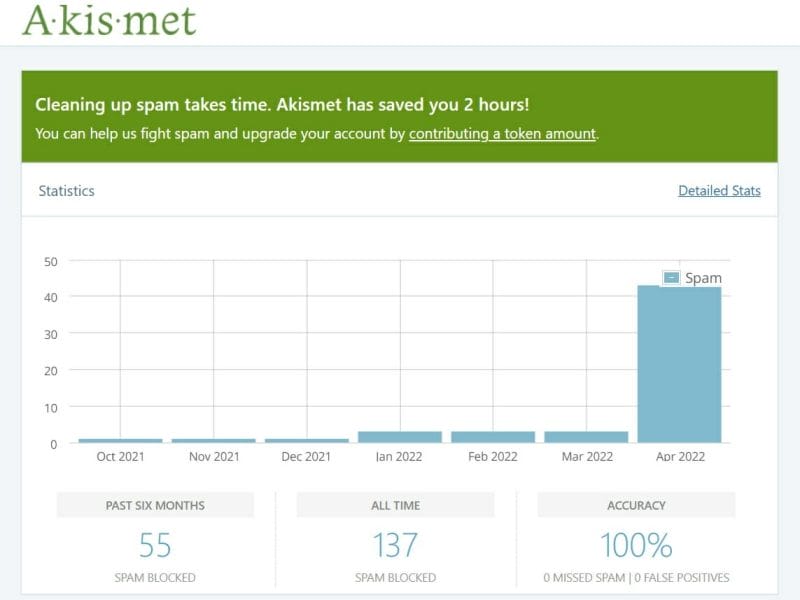 Akismet is a plugin that prevents spam. If you have ever run a WordPress blog before, you will know how much of an issue spam comments can be. Akismet takes care of all of those.
It is amazing how quickly spammers find new blogs and websites and yours will be no exception. These spam links are not only annoying but with what they share, they can even be harmful to you and your readers.
For this reason, it's important to make sure that you have Akismet or some other anti-spam plugin from the beginning.
Emailing List Builder
If you ask any established law firm how they stay in touch with their clients (both previous and potential), the vast majority will say that they get them from their mailing list.
Mailing lists are often slow to build, and they require a lot of time and effort to cultivate. It is for this reason that I recommend beginning to build your mailing list as early as possible – having a good email list is a big step toward creating a successful law blog.
There are many different plugins that will help you build an email list, and everyone has a different preference. My personal choice is Thrive Leads, however, it can be an expensive plugin for those who are just starting out.
Whatever email list builder you pick, it's better than none. If you can start creating your list early on, you will find it much easier to monetise your blog further down the track!
Social Media Plugin
Another essential for starting a successful blog is to have some kind of social media plugin. Personally, I like to use Scriptless Social Sharing as it is not only fast but also aesthetically pleasing.
Many people have other preferences, but the exact plugin is less important than making sure you have some kind of sharing plugin.
A social media plugin is very important as it will easily allow people to share your blog. This is beneficial for obvious reasons, and if you're lucky, it will allow you to go viral on social media!
---
Law Firm Blog Settings
Now that we have all of the essential plugins and basics setup, we can get into finalising our settings in WordPress. Although WordPress doesn't require much configuration for most new law blogs, there are a few things that should always be changed.
Although it's not vital to have a logo and have categories set up from the start, it will help you a lot further down the line. For this reason, I recommend setting up everything that you can initially.
Permalinks
Under 'permalinks' make sure that you have 'post name' selected.
Permalinks are the format in which your links will appear. For example, by default, WordPress will show you post and page links as https://valeolegalmarketing.com/?p=123 (yourdomain.com/?p=xxx). This isn't tidy, and also doesn't tell people (and search engines) what that page is about.
Another popular format is to use the month and date in the name, this would make URLs appear as https://valeolegalmarketing.com/2020/03/sample-post/. However, this also isn't what we want. It's important to keep links short and concise where possible.
For this reason, we want to set our link structure as https://valeolegalmarketing.com/postname. This will make our URLs appear like this: https://valeolegalmarketing.com/quora-blog-growth-tool/.
Not only is this tidier, but it can also get you more social media clicks and give you SEO benefits. For this reason, getting the right permalink structure is vital for starting a successful law blog.
Categories
This one is personal preference, but, it's something that I always set up as early as I can. Categories on WordPress are how posts are sorted. When you write a post, it must be assigned to one or more categories.
These categories can be structured. For example, you can have a travel category which contains different countries that you have articles about. Or, if you write about sports, you can have subcategories for every sport.
It's always possible to add more categories later on, however, setting up the most important categories at the start will help you out later. It can be a painful process to change categories later on, as you will have to redirect all of the URLs.
Logo & Motto
Every law firm site can have a logo and motto, and these will make you seem more professional. Understandably, it can take some time to design and create a logo, and it's fine to use a placeholder until you have something that fits your brand.
However, a logo will make your website appear more professional and people tend to trust a website that looks professional more easily. Not only this, but it will make your website stand out when someone bookmarks it.
WordPress also likes to display a motto, or as WordPress calls it, a Site Tagline. This doesn't have to be something fancy. Anything that describes what your site is about and why users should use it will work.
Something that is very easy to overlook, is the text in the footer. Have you ever visited a website and seen some text right at the bottom of the page saying something along the lines of 'Powered by WordPress', or 'Theme for WordPress created by….'?
While this footer text is rather minor and not of that much importance, you want to establish yourself as an expert in your niche. For that reason, I highly recommend moving these credits if your theme allows.
If your theme doesn't allow, consider upgrading or changing themes. At times, CSS code will be required to remove the text.
---
Google Services
The vast majority of traffic for most websites comes from Google. While some countries have other search engines, the majority of people will find Google essential for their blog traffic. Especially if your blog is in English!
However, you can't simply write content on your law blog and expect it to appear on Google. Unfortunately, it's not this easy. Thankfully, it's also not that hard!
Search Console
Google Search Console will allow you to see your website search statistics.
One of the most essential steps for creating a successful blog is to list it on Google Search Console. Search Console is a platform that indexes your website and allows it to show up in Google Search results.
Setting up GSC is another step which seems complicated at first. It's not as complicated as it initially seems though! In fact, if you are wondering how to add your website to GSC, Yoast has a fantastic article.
Even if you plan to write a few articles before making your blog live on Google, I would recommend setting up Search Console as early as possible. Often it takes months to rank on Google, especially for newer sites.
For this reason, it's better to get your site submitted as early as possible.
Google Analytics
Google Analytics is the most used blog analytics service out there. Analytics is very important for a range of reasons. It will allow you to see how many blog visitors you get, as well as how they find your website, and what they do while on your website.
Analytics is a great way to monitor growth goals as well as to see what is working for you. Without Google Analytics, it's hard to know… well, it's hard to know anything about your blog really.
Initially, analytics is fantastic as it will allow you to see what's working. Did that post on Facebook work? Or what about that latest SEO change you made? Analytics will let you know.
Later on, Google Analytics is important for collaborations and business agreements. Businesses will want to know your audience demographics before working together, and unless you have some kind of analytics software, you won't know the answers to these questions!
---
Essential Pages
Before you dive into writing content and launching social media, there is one more important thing that must be taken care of. That is to create the essential, or 'core', pages of your website.
What are these pages you may ask? Well, these are the pages that you need not only for SEO but also for legal reasons.
About Us
An about us page should be personal, relatable, and explain what you are providing to readers.
The about us page is one of the most important pages on your whole website. It will help you to build trust with your readers through a personal connection, while also giving you more SEO with Google.
An about us page is vital for anyone wanting to learn more about you or your law firm. This is the place where you can explain your story, and what you are giving to your readers. Many people make the about us page too formal, and that's often a mistake.
The about us page should be a place where people can learn about you, where they can see that you are a person also. A good about me page will allow people to relate to you and to see that you care about readers. It should have a personal feeling to it – even on a law firm website.
Further, having a good about us page has been shown to increase SEO. For this reason, make sure to spend some time writing a fantastic and personal about us page, it's an important step towards making a successful law blog.
Contact Us
A contact us page is essential, and also easy to set up.
This page ties in very strongly to the about me page, and it is another essential pillar of your law blog.
A contact us page is important not only because it will allow users to contact you with inquiries or comments, but also because it is required by law in some regions. Every website MUST provide a way to contact the owner, and this is best done through a contact page.
Setting up a contact us page can be done easily through WordPress plugins. My preference for setting up forms is the plugin Ninja Forms. Not only is it free, but it is very simple to use and allows you to set up forms within minutes.
Privacy Policy
The final page that is essential for a successful blog is the privacy policy. Privacy policies state how you handle the information that you get from users, and also explain how people can contact you to delete that information if needed.
For example, when someone uses the contact forms on your website, they are giving away their personal information (their name and email address). If you use Google Analytics, you are also tracking people's activity on your website.
This information must be disclosed, and that is done in the privacy policy. While this step can also sound complicated (especially with legal speak!), there are great resources out there to help you write a privacy policy. If you already specialise in a related field, you might even be able to write your own privacy policy!
---
Final Law Blog Steps
These are the final steps for setting up your website. Well, in fact, at this stage your website is pretty much complete. There are some other steps that you may want to take, however, these are the steps that I use whenever setting up a new site.
These steps will give you the basics that you need to start a successful blog. From here, the steps are less related to your website and more to your overall website presence.
Set Up Social Media
If you haven't already, now is a good time to set up your social media. Since your website is set up and ready to go, it's time to start expanding your reach and create a larger online presence.
Which social media platforms you use are up to you. However, I would recommend using Facebook and Linkedin at least. Facebook because it is the 'standard' social media, that nearly everyone uses, and Linkedin because it is a fantastic place to network.
Depending on your preferences, you may find Instagram, Youtube, Tiktok, or something else useful. In the end, this decision is up to you. However, it's better to focus on a few platforms and do them well, than to split your time and focus and do every platform mediocrely.
Start Writing Content!
What you write doesn't need to be perfect. Just start writing!
At this stage, everything that you need to make your law blog successful is complete. You are ready to go out there and take over the internet! Or, at least, to get out there and get some traffic!
It's time to start writing on your chosen topic and to start producing content. There is a lot more to learn when it comes to writing content, especially when you need to consider SEO and other elements, however, at the start, these points aren't as important.
What is more important is to just get started. Just start writing! Remember, what you write doesn't need to be perfect.
---
Don't Lose Hope
If you have done everything on this list, you are more than ready for your law blog to be a success. However, blogging is not a quick process.
Even if you have followed every step in this guide, expect it to take months before you start to build traffic. Although some people get lucky and get traffic in the first month or two, most blogs take a minimum of 6 months to start getting traction.
It's hard to stay motivated when you can't see growth. But remember, it is there! Gradually you will start to get more visitors, and over time, you can begin to grow leads for your law firm and get more clients. Blogging is a long term game, but it pays off.
If you work hard and don't lose hope, eventually success will come!