In today's digital world, ranking at the top of search results for valuable keywords in the legal sector will give your firm a unique advantage over your competitors. One of the key ways to get rankings is to build backlinks.
Simply put, links are among the top three factors Google considers for ranking.  A study by Ahrefs found that 90.63% of pages have zero backlinks, which impedes them from ranking at the top of search results.
So, what is link building?
Link building involves getting inbound hyperlinks (backlinks) from reputable websites in your niche. Google sees an inbound link to your website from a high-ranking website as a stamp of approval for your website. The more of these links you can get, the more highly regarded your website will be by Google's algorithms.
The key to getting your content linked to by reputable websites lies in the quality of your content. If you create valuable and insightful content that people can benefit from, writers for high-ranking websites will have no option but to link to your page because your content will be too good to avoid quoting it.
High quality, relevant, and authentic content has never been more valuable. While there are effective manipulative and low-quality alternative routes to link-building, they present too many risks and should not be included in your link building strategy. The last thing you want as a law firm is to be less credible.
Valuable and insightful content isn't the only way to get inbound links from high-ranking websites, however. There are a variety of other means by which you can achieve it, but for this article, we will focus on leveraging great content to boost your link-building efforts.
Why Is Link Building Important For Law Firms?
Although there are many direct and indirect benefits from having more inbound links (backlinks), there are a few key reasons that make link building especially important for law firms. These are just a few reasons why link building should feature in your law firm's digital marketing strategy:
Rankings
Google sees backlinks as a vote of confidence. Generally speaking, the more links you have to your website, the more likely you are to rank for your search keyword.
Discoverability
Search engines find new content by revisiting pages they already know about to check for new links.
Search engines revisit "popular" pages more often than unpopular ones, they may discover your content faster if you get backlinks from popular pages.
Popular pages = pages with higher traffic in your industry. Basically, higher position on searches.
Referral Traffic
The only reason why backlinks exist is to point people to useful resources. When someone clicks on a link to your website, you get referral traffic.
---
What Makes A Good Backlink?
Not all backlinks are equal! When law firms hire SEO agencies and pay for backlinks, they often purchase cheap backlinks which wreck your website's authority and trust. Here are some attributes that contribute to the quality of a backlink:
Relevancy
Google places value on backlinks which are relevant because they are likely to be clicked.
No shit right?
What does this mean in real terms?
Let's say your law firm has backlinks from two pages, one from a blog relevant to your practice page and the other link is when you were mentioned in a B-tier news website, the former is more valuable.
The same goes for domains. E.g: a backlink from lawfirmjournal.com is more valuable than a link from Channel 5
Authority
Backlinks from strong pages usually transfer more "authority" than from weak ones. However, backlinks from stronger pages don't always transfer more authority.
Let me explain.
Consider 2 pages.
Both have equal authority and are considered "strong" 
Page 1 has 5 links to your website and page 2 has 1 link
Page 2 will transfer more authority in this case.
Traffic
Backlinks from high traffic pages will send you more referral traffic than lower traffic pages.
Once again, no shit.
But the question to address here is whether traffic from high ranking pages affect rankings more positively than low ranking pages.
Research was done by Ahref's and this is what they found:
"There's a small but clear correlation between rankings and backlinks from pages with organic search traffic. However, the sheer number of backlinks from unique websites (referring domains) and page-level authority look to be more important."
Placement
People are more likely to click links which are prominently placed. If possible, avoid getting backlinks which will be placed in the footer of some random page.
Ensure that it's always in the "core" content.
---
Link Building for Lawyers: A Deep Dive
Link building for lawyers is important for driving organic traffic via search engines to your law firm's website. When used alongside strong technical SEO, value-adding content, and an overall good user experience, link building can be extremely effective at driving high-quality organic traffic to your firm's website.
Link building is acquiring hyperlinks from other websites to your own. A hyperlink is usually made when content from another website is quoted. The purpose of the hyperlink is to enable the website's audience to access the full content from which the quote was derived.
Search engines also use links to "crawl" the web and explore the individual pages on your website to index them.
Getting links that you didn't request is the ultimate goal of an effective SEO strategy. You will only achieve this if you put in the work to make your website link-worthy by producing great content that cannot but be referenced by other websites.
To re-enforce your strategy, you can also employ various link-building techniques to build your authority and increase your chances of ranking well and getting traffic from organic searches.
As you explore techniques, keep in mind that Google has been discounting several link building techniques over the years due to the actions of bad actors who try to manipulate Google's search algorithms.
Google has been actively penalizing the rankings of websites that have used (or continue to use) such manipulative techniques. So, it is advised that you steer clear of "backdoor" or "black hat" techniques.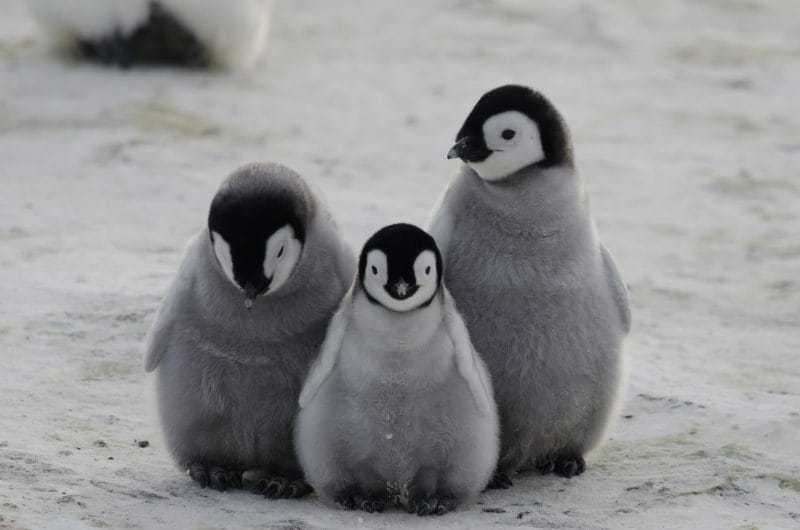 Penguins, our spam protectors since 2012!
For example, in 2012, Google released an update known as "Penguin", which targeted specific link building techniques, rendering the use of manipulative link building techniques a waste of time.
You will encounter such techniques as you explore the internet seeking information to reinforce your SEO strategy. If you do not avoid them, they may damage your website's ability to rank well in organic search results and permanently penalizing your website from ranking on Google.
To understand what Google considers manipulative, we advise that you study and understand the Google Webmaster Guidelines and take them into account as you develop your strategy.
There is no simple way to determine how Google determines its search results because the company keeps that information secret but generally agreed that links' volume and quality still play a big role.
---
What Is a Hyperlink?
According to Wikipedia, "A hyperlink, or simply a link, refers to data that the user can follow by clicking or tapping. A hyperlink points to a whole document or a specific element within a document."
As you might have observed, the word "Wikipedia" stands out from the other words in this article. This is because the word contains a hyperlink to the webpage from which we quoted our definition of a hyperlink. By clicking it, the word "Wikipedia" activates a set of actions that result in your browser opening up the same webpage from which we derived our definition.
This is what you seek for your law firm when you carry out link-building activities. You want high-ranking websites to quote data from content on your website and then link to it so that readers interested in knowing more can find it if they are interested in knowing more.
---
Types of Links
Unrequested Editorial links
This is how the vast majority of links online are created without someone having asked for them. This type of link is created because the content creator wants to be helpful and link to content that a client seeking legal information would find valuable.
This is the best link form because you don't have to work for it, especially if it comes from a high-ranking website. When you put in the hard work required to reach the level where high-ranking websites regularly reference your content, it is a sign that your investment in quality content is finally paying off.
This is fairly easy for popular firms because people – admirers and critics alike – will quote your content whether you like it or not, but if you are new to the game, a lot of effort needs to be invested in getting to it this level.
Requested Editorial links
These links also come from the coveted high-ranking websites, with the only difference being that you have to put in the effort to get the link made.
This could be done by actively promoting content to a website for which you believe it will be a valuable resource. Or it could be by engaging with a social media influencer whose followers will find the content of immense value.
Whatever method you use, you need to develop link-worthy content and then put in the effort to promote it.
Benefits of abiding by the rules
Although you will have to start with requested editorial links, unrequested ones are the ultimate goal for any serious firm aiming for long-term success.
Requested editorial links are not entirely forbidden in Google's Webmaster Guidelines so long as you don't get caught going to extremes like buying links (making payments to a website content creator to link to your content: paying someone to link to your content). That kind of behaviour, if discovered by the Google team, will create problems for your website.
The better approach is to focus on strategies that will yield benefits in the long term. While firms in other industries can benefit from a short-term burst of success, the legal industry is not the same. A long-term approach is required to build success as a legal outfit, whether online or offline.
By rolling up your sleeve and developing valuable content, you build a content pool that will stand the test of time and continue to create value for your audience and the broader internet for a long time to come.
In taking this approach, you create so much value for your audience that they are motivated to spread the word about your firm and recommend you to their family, friends, and associates.
---
Kickstarting Your Link Building Campaign
Now that you understand the basics, in this section, we will focus on furnishing you with a step-by-step guide detailing all the important things you need to know to execute your link building campaign.
Set Goals
Setting goals for your law firm link-building campaign should be the first step. If you don't know what you aim for, how will you know when you have achieved it?
Aside from measuring progress, having clear and concise goals will enable you to craft your strategy in a manner that will align it to your broader organizational goals.
Some of the questions you should consider as you list out your goals are:
Why do you want links made to your content?
Do you want more page views? Are you trying to expose your firm to potential clients? Or are you using your content to acquire new clients for your firm?
Do you want your content to rank higher because you want to be helpful?
Whatever the goal may be, make sure you take a long-term view of it and is designed to have a real-world impact on the bottom line of your business.
Be Patient
Backlinks are a long-term game.
The possibility of getting overnight results only exists for those who use malicious link-building methods. If you are taking the risk-free route of abiding by the Webmaster Guidelines, you need to be patient before seeing the positive effects of your link building efforts on your website's ranking.
Success in this space is rarely an overnight endeavour, especially in competitive industries like the legal industry.
Patience is one extra goal you must incorporate into your list of goals. This is a point that internal SEO teams/managers must emphasize. Due to the difficulty of showing link-building campaigns' success, it is better to clarify that SEO and link-building don't produce instantaneous results.
Determine Your Content Strategy
The type and quality of your content are the backbones of any link-building campaign. Your content will attract eyeballs and lead high-ranking websites to consider quoting your content and linking to it.
It is up to you to decide what your content will be. Some categories to consider include:
Text, video, audio, or images.
Data
Products
Services
Once you have decided what kind of content or content mix you prefer, the next step is to decide upon a strategy. What angle is the content going to take?
For example, how will the videos be structured if you choose video as your content form of choice? What audience will the videos be targeted at? How long will the videos be? Will the videos be posted on your platform alone or also on platforms like YouTube?
It would be best if you determined all of this at this stage.
Furthermore, as you publish your content, apply all the necessary SEO tools to ensure it is fully optimized.
You can leverage tools like Google Trends or Buzzsumo to research hot topics in the industry if you don't already have content ideas.
Build a List of Potential Link Targets
Ahrefs Domain Analysis.
It should be easy to decide which websites are best positioned to provide valuable links to your content with complete content creation.
If your goal is to get new clients, ask yourself which websites/platforms your potential clients are already visiting actively. These will be the best places to get links back to your content because the managers of those platforms are more likely to care about your content since it appeals to their audience.
The main purpose of creating this list is to avoid operating blindly. If you send emails to random targets, you are more likely to waste time because most of them are unlikely to care about your content.
By carefully curating your list, you increase the chances of hitting it off with the people you contact because of the mutual benefit from linking to your content.
To create an optimal list of targets, follow these recommended steps:
Create a list of websites/influencers using Google and Social Media channels: Find top blogs for your segment of the legal industry and use tools like SEMrush, Ahrefs, Moz, Twitter, Facebook, etc., to determine the ranking of the website and following of the influencer.
Carry out in-depth research on the websites/influencers you've selected to understand their strategy and the team behind the brand. The goal is to know if their goals are aligned with yours.
Visit the website/social media handle to review their content, and as you do, make sure you are checking to see what kinds of links they share. This will help you when you are deciding who to contact.
Things to consider as you create your list:
Domain Authority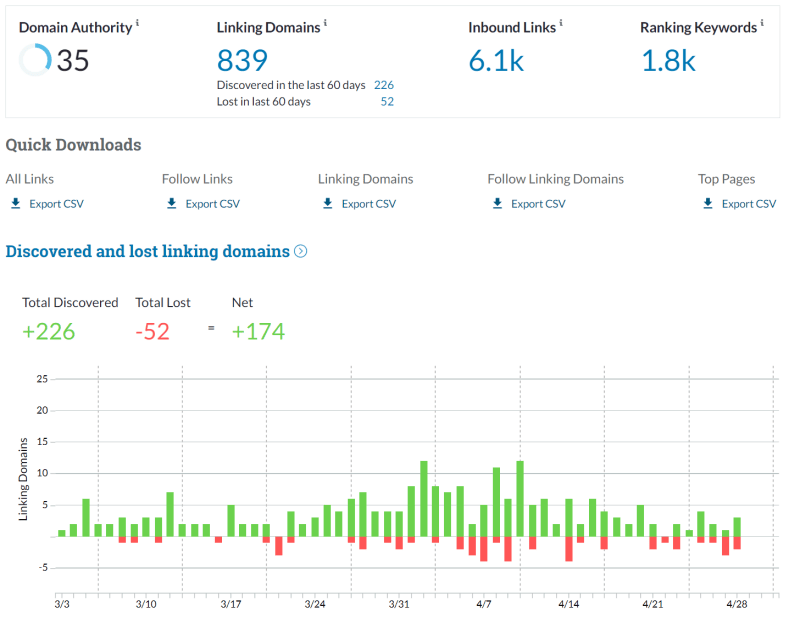 Leverage tools like SEMrush, Moz, PrepostSEO to find the Domain Authority of each of the websites on your list. Domain Authority helps you gauge how strong each of the websites is and that will enable you to know which websites to focus on and which ones are not worth the effort. The higher the Domain Authority, the more valuable a link from the website will be.
Generally, anything with a Domain Authority under 40 is not worth the effort, so if you have a large list, its best you narrow it down as much as possible to focus on the top candidates. Less is more in this situation.
An alternate approach is to create two categories, one for the websites with the top Domain Authority rankings and another for the lower ones. Once you are done contacting the websites with higher Domain Authority, you could turn to those with a lower Domain Authority.
The benefit of this is that you increase the chances of getting a response because lower-ranking domains may be more willing to engage with you. In contrast, the higher-ranking ones may take longer to reply, if at all, because they are inundated with requests.
High-ranking Influencers
Seek out influencers in your segment of the legal industry who have large followings. Although it is possible to buy followers, you can gauge the authenticity of their follower count by checking the level of engagement with their posts.
The norm is to have at least 10% of an account's followers see and engage with their posts on social media. If the influencer's posts exceed this metric, their follower count is likely authentic.
The benefits of using influencers are two-fold. You get your content exposed to the influencer's followers, and if it is value-adding, the influencer's followers also share it with their followers, and so on. Creating a cascading effect and skyrocketing your page views/website visits.
You can also use social media following and engagement to decide what websites to contact. A blogger may not have a very strong Domain Authority but may have a huge following and solid engagement on social media. You can move that website to the influencer list instead.
Most Likely to Link
As you study the content on the website or social media handles you have compiled on your list, you need to look for how often they link to external content.
Some of the things to consider as you assess the likelihood of getting a link from them are:
How often have they linked to external content?
Is the content they linked to similar to your content?
How actively are they posting to their website/social media?
Is there anything that indicates the influencers require a fee before posting links to external content?
What kind of external content do they link to? Is it only content from high-ranking websites, or do they also post content from websites ranked similar to yours? (this will require clicking the links they have posted and reviewing the content and website Domain Authority).
With this research done, you should split the list into four groups
Websites that are likely to link to any value-adding content
Websites that only link to content from high-ranking websites
Influencers that are likely to link to any value-adding content
Influencers that need to be paid before linking to content regardless of value
All the names on the lists are still viable candidates, but it is advised that you focus on list number 1 and list number 3 because those may be easier to get links from if your content meets their standards.
Get contact information
The next step is to find contact details for the websites and influencers you are interested in engaging with. This process is straightforward.
For the websites, you can find contact details on the "Contact Us" or "About" page, usually listed on the website menu.
If there is no "Contact Us" or "About" page, you can scroll to the bottom of the page and check the footer section for the contact details.
For the influencers, check their social media profiles, and you should find their contact information. Usually, an email address.
As you studied their websites and social media handles, you should have understood how they communicate and the things they value. Use this understanding to craft a personalized message for each of the names on your list.
A personalized message crafted in a manner that appeals to each of your targets will increase the likelihood of getting a response because you will sound genuine instead of sending a generic message to a group of random email addresses.
---
Conclusion
Your goal in contacting high-ranking websites and influencers is to pitch your content in a manner that reveals how it will add value to their audience if quoted and linked to. The goal is not necessarily to pay for the link because that would entail expenses you may not be able to afford upfront.
A second goal should be to have them review your contact and give feedback on it. They are unlikely to mail you back, giving a thorough analysis of what is right and wrong with your content, so what you should focus on is whether or not they link to your content in their subsequent content releases.
A link to your content can be seen as a stamp of approval on its quality. However, if you get no links, you probably need to go back to the drawing board and create better content or reassess the lists you created.
If the websites and influencers link to your content and share it with their audiences, other platforms will then become aware of it and may link to it in their posts without you having to contact them.
Once that happens, you should see a steady rise in the number of links to your content.
The work doesn't stop there; you have to get back on the saddle immediately, start creating new value-adding and insightful content and kickstart the process again.
---
Link Building for Law Firms FAQ
Why Should Law Firms Build Backlinks?
Yes! There is no downside to link building for law firms. With that being said, depending on what stage your law firm is at, producing quality content might be a better first step.
How Can Law Firms Start Link Building?
The first step is to ensure that your law firm is putting out quality content. This will lead to organic backlinks. If you want to kickstart your link building, outreach is a great place to start.
What are Backlinks?
Backlinks are inbound links from other websites. They are the way that Google sees authority and therefore are very important for SEO.
Does Link Building Help SEO?
Yes! Although content quality is more important, backlinks gained through link building will definitely help your law firm to rank higher.
Will Link Building Help Law Firms Outrank Competitors?
Yes. Link building is one of the best ways to outrank competitors.