In this digital age where attention is a valuable currency and millions of law firms are having their digital presence established, a law firm needs to stand out from the competition to attract potential clients.
According to a survey done by The National Law Review, 96% of people looking for legal services start with a simple Google search. If you wish to show up on top Google search results and convert these legal searches into potential clients, you need to invest in Lawyer SEO.
What Is Law Firm SEO?
Law firm SEO (also commonly referred to as Lawyer SEO or Attorney SEO), involves strategies and techniques that help your law firm land potential clients by making your website enticing to the Google algorithm. If Google finds your website "attractive", It will rank your law firm higher on the first page of Google search results and make it more likely for people looking for legal services to contact you.
This is Attorney SEO in a nutshell.
Why is making your law firm's website attractive to Google important? Let's find out.
Why Is SEO for Law Firms Important?
SEO can be difficult to understand if you've never invested in digital marketing before, however, if you're a law firm looking to actively generate high-quality leads, capturing organic traffic through Google searches is important.
Let's have a deeper look into some of the advantages.
1. SEO Is Cheaper Than Google PPC
Paid ads are a great source of generating high-quality leads, however, the moment you stop running ads, your lead flow stops. Law Firm SEO is a long-term investment. The content you publish and the backlinks you acquire for your website have an evergreen effect and pay dividends for years to come.
Think of Law Firm SEO like working out. You don't hit the gym for a month and expect chiselled abs like Chris Hemsworth. You put in months of consistent training and dieting to achieve your dream physique.
2. SEO Builds Trust With Your Ideal Clients
Most law firms are "faceless". They are often seen as a business identity by clients rather than a group of amazing people providing personalized legal services. Your clients choose you because you provide personalized service. You go the extra mile to make them feel special and not just see them as billable hours.
Oftentimes, it's very difficult to build this trust if you're in the personal injury, family, divorce industry as your clients come to you with a very personal matter and SEO does a great job of building trust. Through your content, you can position yourself as an industry leader, someone who is empathetic and cares about their clients.
3. SEO for Lawyers Improves Brand Awareness
Brand awareness for law firms is more than just people knowing your logo. It's about you consistently being in front of your audience. It takes an average of between 7-11 interactions before your potential client even thinks about contacting you. However, if they are aware of your brand they can trust you, and know that you're an expert in your industry, the interactions go down significantly.
What Are the Important Law Firm SEO Ranking Factors?
When it comes to ranking your law firm on Google search results, it comes down to 3 factors; Content, Backlinks & Citations and Technical SEO, and all 3 are important to secure the top spot on search results.
1. Content
Content is one of the best ways to showcase your expertise to your audience by answering questions that they're searching for. As mentioned earlier, over 96% search for legal services online, and they start by looking for answers to their problem. As a law firm, it is important to appear on these search results.
For example, if you're a personal injury lawyer or law firm in Houston, you'll want to show up on Google search results when someone searches "Best personal injury firm Houston". Your prospects have a lot of questions before they decide to contact you and it's important to put yourself in their shoes and answer the following.
Is this law firm in XYZ area in Houston?
Does this firm practice personal injury?
Can they service my particular need?
Is this firm any good?
The content on your website (Practice area pages, blog articles & FAQ's) should talk about the various problems your clients usually face and answer questions that they'll have regarding their situation. Google will show your website and your content to users if it believes that it helps the searcher, hence, giving your website a higher spot on the search results.
Answering questions is great, but are you answering the right questions? Does Google know you're answering the right questions?
Expert Opinion: Practice area pages are one of the most efficient sales pages when it comes to your website. It helps the prospect understand how you can help them, your experience in this industry and how you've helped other clients like them.
Keyword Research
One of the ways to figure out if you're doing a good job is through Keyword Research. Doing keyword research will save you time by answering questions like 'what your potential clients are searching for' 'Is it worth writing about topic XYZ to target these potential clients? To make sure that your potential clients find you, you need to target proper keywords.
Finding the Right Keywords
Understanding what kind of questions your potential clients are searching for is the first step to the keyword research process. Without this information, it's hard to figure out what type of valuable content to create and attract the proper audience.
Brainstorming common words and phrases in your industry is the most efficient way to start this process. If you're a personal injury lawyer in Houston, it might look something like this:
personal injury lawyer near me
personal injury Houston
car accident lawyer
work place injury
best pi lawyer
We use Keysearch to do keyword research for our clients and our agency and we cannot recommend it enough. Enter the keywords in the 'Keyword Research' section and find other keywords your prospects are searching for.
Checking Search Volume
Once you've found the keywords you want to target it's important to figure out if they have enough search volume. The last thing you want to do is spend 6-8 hours writing a wonderful article but not have anyone read it as you didn't do proper keyword research.
Checking Ranking Difficulty
If a keyword seems relevant to your law firm, practice area, and industry it might not always be easy to rank. One of the biggest factors when it comes to ranking for a keyword is to see what other websites are competing for first page rankings.
If the top searches for a keyword are all websites with high 'Page Authority (PA)' & 'Domain Authority (DA)', it's better to look for alternate keywords as it may be difficult to outrank them.
Note: PA & DA are scores given by Google to a website to determine relevant and trustworthy that website is.
Keysearch does a really good job of mentioning if a keyword is easy to rank for.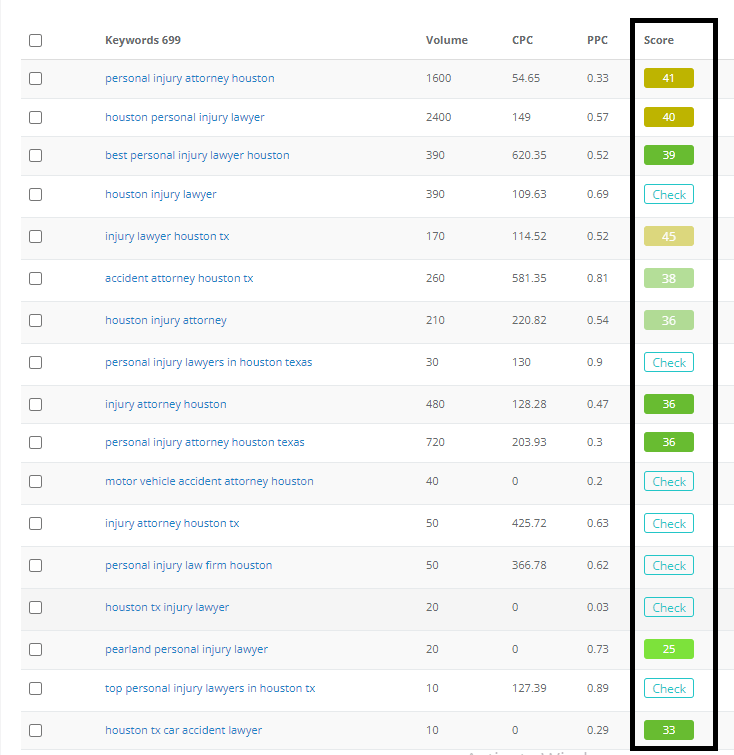 Blue = Easy to rank
Light Green = Below average competition, still easy to rank
Dark Green = Medium competition, might be difficult to rank that keyword
Yellow/Dark Brown = Hard to rank, better to find alternate keywords
Red = Do not bother.
To completely optimize your website for your potential clients to find you, you NEED to include the main keywords on the following pages:
Title of various articles (referred as Title Tag)
Meta description of articles
Various Headings & Sub-headings
Web page URL's
Image description & alt text
2. Backlinks & Citations
Creating great content is a fantastic start, but there's an ocean of content out there on Google. Ever wonder how Google decides which content to show on the first page?
Well, one major factor the Google algorithm considers is backlinks.
Backlinks are Google's way of determining which websites to trust. If a high DA (Domain Authority) website links to your law firm website, Google finds you more trustworthy.
Think of backlinks as votes. If the high school football star says you're a cool dude, everyone starts respecting you and treating you better. Similarly, if your law firm website gets a lot of votes/links, Google starts respecting you more and gives you the ranking you deserve.
Want to learn more about backlinks? Here's a detailed introductory guide to Backlinks for Law Firms.
Improve Local SEO for Lawyers Through Citations
90% of a law firm's clients come from the city they are in. This makes local SEO for lawyers extremely important.
Your potential clients are checking your social media accounts, legal directories and other digital assets before reaching out to your firm. That's why you need to obtain exposure from websites where they display your contact information (citations)
Here are some of the best and easy places to obtain backlinks from:
Legal directories like Avvo, FindLaw & Legal 500
Google My Business (GMB)
Social media channels like Facebook, Instagram & LinkedIn
Links from your profile from the law school you attended
Expert Opinion: 90% of your clients are likely from the city you practice. Showing up on local search results has the highest ROI for your SEO efforts. Here's our complete guide on local SEO for lawyers to get more local clients.
3. Technical SEO
Technical SEO is the one that can make or break your law firm SEO results and for some reason, it's given the least amount of importance by other SEO agencies.
Technical SEO in simple words is ensuring that your firm's website is "User & Google-friendly". It can get complicated to execute it perfectly and we recommend hiring an SEO agency for this matter. Feel free to contact us if you'd like help with technical SEO.
Here are some of the important factors when it comes to Technical SEO:
Website Speed
According to recent research done by Google, 58.8% of your website visitors leave if your site takes longer than 3 seconds to load and increases by 10% for every extra second. If your law firm website takes 9 to load, 90% of your visitors are already leaving before your homepage even loads.
Make sure you have a fast website that loads under 2 seconds to optimize for user experience.
You can check your site's website speed at Google's Page Speed Insights.
Mobile Friendly
According to Google, 63% of law firm website visits are through a mobile device. Google switched to "mobile-first" indexing a few years ago meaning that it gave websites better ranking if their website was optimized for mobile users. Make sure that your tech team optimizes your website for various screen sizes.
User Experience
Google loves a website that is simple and easy for users to navigate. It also loves a website that is easy for the Google bot to navigate and find all the pages, understand what those pages are about and there are no broken links on your website.
Google hates it when a user leaves your website too quickly. In marketing, we call this the 'Bounce Rate'. If a website has a high bounce rate, Google starts questioning its credibility. The last thing Google wants for a website visitor is to be bombarded with pop-ups.
To ensure your users have a wonderful experience, we suggest the following:
Create simple and easy to use menus that make it easy for the user to navigate across the website
STOP auto playing videos as soon as they land on your homepage
Put your best foot forward and showcase your expertise and case studies on the homepage
STOP asking users to subscribe to your newsletter on the homepage. Leave that for the blog section
6 Step Law Firm SEO Strategy You Can Use for Your Law Firm
If you're new to SEO and are looking to dive into this rabbit hole, here's a foolproof fundamental strategy that we use for all our law firm clients:
1. Find Your Law Firm's Keywords
Law firm SEO starts with finding your keywords to rank for on Google searches. Start with your practice area and widen your keywords from there. We recommend finding mid- high volume keywords with low competition as these are low hanging fruits.
It's best to use a professional SEO tool such as Keysearch, Ahref's or Moz for keyword research. Although I'm against using free tools for this Google Trends & Answer The Public are decent tools.
Check out our in-depth article if you'd like to learn more about Keyword Research.
2. Use Keywords on Your Website
Once you've figured out the short and long-tail keywords with high traffic potential and low competition for various practice areas, now it's time to incorporate them on your website. Include them in your headlines and sub-headlines on your homepage, practice area pages and various landing pages.
3. Create Helpful Content
There's a saying in the marketing world; content is king. Content is THE best way to showcase your expertise to your potential clients and build trust with them and here's how content will help in regards to SEO:
Adding new, consistent topics will let the Google algorithm more about your firm and boost rankings
By publishing regular useful information, you can improve the time the user spends on the website which is an important SEO metric.
Blog articles provide you an opportunity to rank higher for the keywords on your homepage by diving deeper into particular topics
4. A Good User Experience
Most website visitors leave due to poor user experience.
Here are some helpful tips the Google algorithm considers a good user experience:
Have an aesthetically pleasing, fast loading website
Have the website optimized for mobile users
Make sure you have proper navigation bars for the users to go to various pages
5. Links
Links are crucial for SEO. There's no denying that, but acquiring backlinks is a tedious time-consuming process and in this article, we'll only be going over the ones we can control.
Internal Links
Internal links are links that make it easier for the user to navigate on your website to other useful information. Take this article, for example, I've used internal links 4-5 times to guide you to important sections.
Internal linking is good because it helps Google determine which are the most important content on your website. Ideally, you'd want to link most of your content to your "money pages".
Imagine a pyramid, you want most of your links going from low priority articles (bottom of the pyramid) to high priority articles (top of the pyramid).
For example, if you're a personal injury lawyer, your low priority pages could be about a legal update that happened and your money pages could be a complete guide to car accidents.
External Links
External links help Google validate a website's authority through something called Domain Authority (DA). It's a score given by Google to determine a website's credibility, authority and trust. Better the score, the better the trust from Uncle Google.
If you'd like to know more about backlinks and their relevance, check out our Introduction to Backlinks for Law Firms article.
To summarize, backlinks improve exposure, bring in relevant traffic and help build authority with Google.
6. Google My Business & Legal Directories
One easy way to get more backlinks is to set up your law firm profile on various legal directories. Legal directories have high DA and acquiring a link from them is a quick SEO win.
Local SEO for lawyers is extremely important as 90% of a law firm's clients are from the same location.
Complete and Optimize your GMB listing with information such as an address, phone number and opening hours to show up on local searches.
Check out our Complete Guide To Local SEO for Lawyers for more.
Attorney SEO FAQ
1. Should I Invest in Law Firm SEO?
Well, it depends. Are you trying to grow your law firm and consistently bring in high-quality inbound leads every month? If the answer is yes, then yes, you'll need SEO.
96% of people and businesses looking for legal services go to Google. If some searches for "personal injury lawyer Houston" there are over 5 million results and only the top 10 search results (SERPS) get all the clients.
If you wish to grow your firm in 2022, you need to focus on law firm SEO.
2. How Long Does It Take to Rank on Google and See an ROI?
Well once again, it depends. Gone are the days when you could just have your website optimized for titles and within weeks you're ranking on the first page of Google.
A good answer would be between 6-12 months but once again, it depends on the resources you allocate, the competition of the practice area you're in and how many "big players" are there in your industry.
A law firm SEO campaign is something that should be ongoing. It's just like taking care of your body. You don't stop when you get six-pack abs right?
3. How Much Does Law Firm SEO Cost?
SEO for a law firm could cost between $2,500 – $10,000/mo depending on your starting point, practice area, location, competition and your ongoing efforts.
For example, If you're a mid-size personal injury law firm in Atlanta and have been in business for a couple of years and didn't have an exact content strategy in place, you'll be spending around $6,000-$8,000/mo as it's a highly competitive industry and you'll need an aggressive SEO strategy.
4. Should I Invest in Law Firm SEO or Google PPC?
Once again, this depends on the goals you're trying to achieve. Are you looking for fast, short term results? Then Google PPC is the better option.
Are you looking to generate consistent, high-quality inbound leads every month over the next few years? Then SEO is the way to go.
5. How Often Should I Blog and How Long Does My Content Need to Be?
Quality > Quantity.
We recommend publishing 2-4 high quality, keyword researched topics with high traffic potential that are 2000-3000 words long.
Publishing 20 (200-300 word) legal updates do nothing for SEO. It's better to focus on long-form content as it has a significantly higher chance of ranking on Google searches.
6. Should I Hire a Law Firm SEO Expert or Do It Myself?
No, not necessary, but wouldn't your life be easier if you brought an expert in?
Let's take business taxes as an example. We could do it ourselves but we choose to get experts in as they'll make our lives easier.
If you don't have the budget to invest in SEO, we definitely recommend doing SEO yourself.
7. What Free Online Directories Can I Add My Law Firm To?
Adding your law firm to high-quality online directories can definitely boost your SEO and bring in relevant traffic. These are the best directories we recommend for law firms in no particular order:
Google My Business (GMB)
Yelp
Justia
Avvo
Find Law
8. What SEO Tools Do You Recommend?
At Valeo Legal Marketing, we use for the following tools to implement SEO for our clients:
Keysearch (keyword research)
Ahrefs (competitive analysis)
SemRush
Google Analytics (Measuring)
Google Search Console (Reporting)
9. How Do I Find the Best Law Firm SEO Agency?
In this guide, you would've probably realized that Attorney SEO is a complex subject. Attorney SEO is simple, you have to create great content, create a wonderful user experience, get other websites to recognize you as an authority in your industry and practice area. Pretty simple, right? However, there are quite a lot of steps involved in this process and it can get quite technical.
Hiring a law firm SEO expert can help you focus on the legal work and significantly increase the odds of ranking on Google.
Here's what you should look for in a law firm SEO agency:
How long have they been doing Attorney SEO and serving the legal industry?
Could you share some successful case studies and testmonials?
How can I measure progress and track results?
Final Thoughts on SEO for Lawyers
SEO for lawyers is a long-term game. Don't expect to see immediate results from organic Google searches. Keep at it and focus on publishing high quality content, build good backlinks, and be an awesome lawyer and generate fantastic reviews on Google.
It's important to check your progress and measure results to see the impact of your SEO efforts. Use Google Analytics and Google Search Console to view website traffic, bounce rate and other metrics.
In the end, it doesn't matter if you're doing it yourself or hire a law firm SEO expert, if you can compete with top search rankings, you're going to crush it.